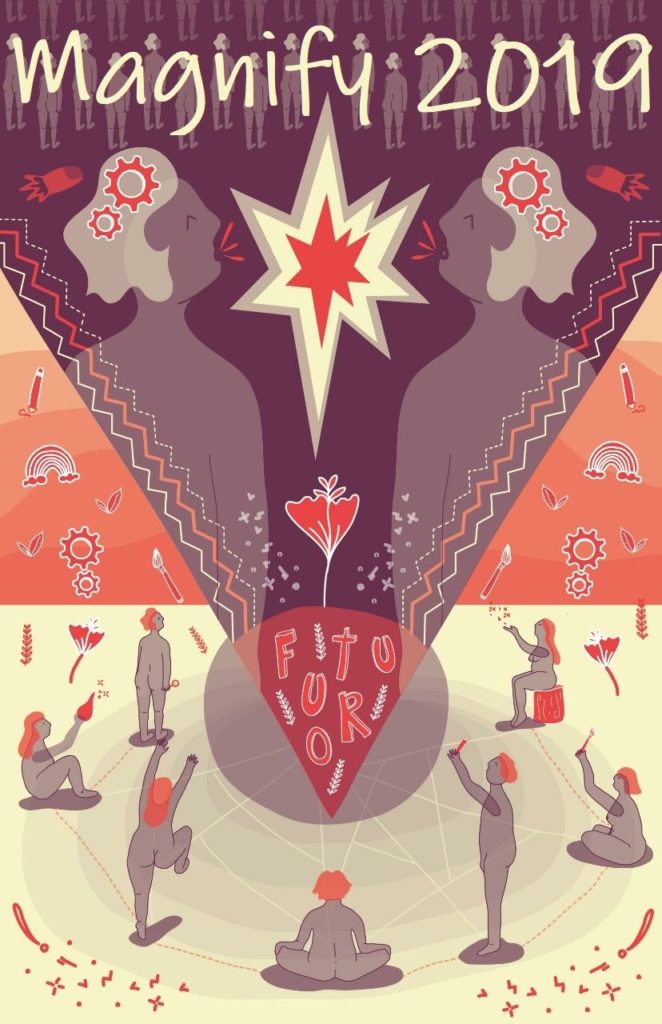 Magnify is a laboratory of personal and collective transformation in a residency program for those who seek to nourish their creative and reflective selves. Check out this page to peak into 9th edition.

We're excited to be back in Medellin, Colombia. The city is bursting to full with grassroots initiatives, artistic interventions and innovation. During the 2019 edition we came together around this question
How do we develop skills & nurture relationships to transform the tensions that stand in the way of creating the futures we want?
We all have universes inside of us, it has been powerful to open and look into those universes
How does everything I've lived manifest into reality?
How can I prepare myself in the present to live up to my future self?
Is transformation necessarily a painful thing? How do we nurture processes of change in a way that feels exciting?
With PAR everything can be questioned
Meet the Brilliant Characters Coming this Year
Ana María Corena
Ana is passionate about trust building and how cultures and organizations interact among each other and with the environment. She has experience working in the private, public and third sectors with topics as social development,sports for development and sustainability in Colombia. She has completed a bachelor program in International Business at EAFIT and a Master in Strategic Sustainable Development from BTH.
Emilia Gonzales
I am a Colombian-Canadian currently studying Social and Transcultural Psychiatry at McGill University. I am exploring ways to engage migrant young people in evaluating community mental health programs. My work is inspired by action research and participatory approaches. As a migrant myself, I am interested in how young people experience migration and resettlement, civic participation, multicultural identities and resilience. I am involved in projects exploring child supervision with ethno-culturally diverse communities in Montreal and in international partnerships interested in child participation in the context of child protection in Canada, Brazil, South Africa and China. I have had the privilege of working and learning alongside young people for over eight years in a variety of roles.I have a green thumb that can make anything you eat sprout, I can groove to a silent beat and convince you to join, I love flying (both in acroyoga and in dreams), climbing rocks and having conversations with people's eyes.
Emma Close
Emma is from the north of England but has been living in Medellin for the past nine months while on sabbatical from her job at the BBC in London. For seven years she has worked as a radio producer and journalist for both domestic and international BBC Radio, producing current affairs programmes from across the UK, as well as from Mexico, Sweden, Greece and Ireland. More recently, her work has been focused on social affairs and education in the UK.Emma is interested in how participatory action research approaches can be used to improve journalism. She particularly enjoys collaborating with young people and she worked with a group from Afghanistan and Syria in Greece last summer to set up an online radio blog. While working in London, she volunteered as part of the children's activities team at Akwaaba migrant social centre in Hackney. In Medellin, she has been learning Spanish, working with Mi Sangre foundation on a pilot for a youth-led audio project and enjoying a different pace of life. When not doing radio stuff, Emma is likely to be trying to find opportunities to hike, play football, dance, read and cook for friends and family.
Fiammetta Wegner
Fiammetta is an Action Researcher and development practitioner specialized in the design and facilitation of participatory processes. She has worked in the development sector at the global and local level for over 7 years. Her work focuses on organizational learning, youth leadership, power analysis and social accountability. She likes to use experiential and creative methodologies to open spaces for individual and collective learning. Fiammetta is a great listener and she loves to leverage the power of groups coming together to explore innovative solutions. In her free time, she is a passionate dancer and believes in the restorative potential of movement and music; she enjoys fusing these practices in her facilitation.
Jaxson Khan
Jaxson Khan is CEO at Khan & Associates, a global advisory firm that helps innovative companies and organizations with strategy, communications, and growth. In the community, Jaxson serves as a host of the Ask AI podcast, a mentor with Techstars, an instructor at Product Faculty, an advisor to Century Initiative, and a member of the World Economic Forum.Jaxson previously served as Head of Marketing at Nudge.ai, the Canadian AI Company of the Year in 2018. Earlier, Jaxson co-founded Young Diplomats of Canada, an NGO that engages with the United Nations, World Bank, and G20, and he has represented Canada at global summits including in Istanbul, London, Washington, Kigali, and Azerbaijan. He served on advisory boards with AstraZeneca Canada, The Globe and Mail, and The Global Partnership for Education.Jaxson is a published author and speaker on technology, education, and policy, including with the International Economic Development Council and a TEDx talk. Jaxson graduated from Western University as a 3M National Student Fellow and one of Canada's Top 20 Under 20.
Kirsten Williams
Kirsten is a nomadic soul who enjoys culturally enriching experiences and out-of-the-box living. She currently enjoys the new challenge of stability and deep dedication to her home in Medellin, Colombia.As Recrear's Director of Community Engagement, she has loved discovering how Recrear's style of participatory action research can open up spaces for reflection for communities as well as civil society organizations. Her research interests have taken her from exploring Afro-Ecuadorian youth participation in Esmeraldas, socio-economic inclusion of young people in Bolivia and tendencies of evaluation among youth INGOs in London. She is a salsa queen and has a solid track record of spreading the infectious love of dance around.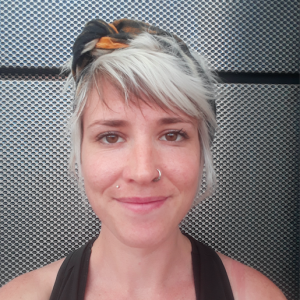 Lita Wallis
Lita works as a youth worker in North London. She supports young people to run programmes (like a Feminist Self Defense Squad) and uses PAR methods in a project called Take Back The Power where young people are employed as researchers to share stories about an injustice which affects them, and decide what action should be taken based on their lives. In the past she has used participatory methodologies with mothers, school children, unaccompanied minors and people facing housing issues. She has worked in solidarity with people in border communities in France and Greece, and supported people to organise against debt and evictions. Now she lives on a boat in a park in East London and if she is not working she is probably singing, kickboxing, reading or growing things.
Maria Alejandra Escalante
Maria Alejandra is a queer feminist and environmental justice organiser and researcher from Colombia. She works as the climate and environmental justice focal point for FRIDA | The Young Feminist Fund, where she leads different initiatives supporting and featuring young feminist activists from the Global South. Maria Alejandra co-founded and organizes alongside TierrActiva Colombia, a youth-led collective supporting community empowerment and resilience against climate change. She is also a senior fellow storyteller at Our Climate Voices collective, where she leads the first bilingual series focusing on Latin American environmental defenders. She studied Human Ecology at College of the Atlantic, Maine, USA and is currently finishing a research masters on Rural Territorial Development at FLACSO Ecuador, with a research focus on peasant organizations in the Sumapaz region of Colombia. She loves dancing salsa, specially in queer and liberating spaces and is getting ready to become a DJ sometime soon.
Pilar
I'm currently taking a pause in life, giving time and space to reflect on what's next for me. I've got a Bachelor degree in economics from the most recognized public university in Colombia. I have a wide experience in social programs related to public health and education, working mainly for several entities from the Colombian government. I've done a master's in Participation, Power and Social Change at the Institute of Development Studies which has led me to explore in greater depth my individuality and how I connect with others. I'm passionate about social justice and how can I learn from every person. I like to spend time lost in nature. I consider myself as a great listener. I love to be moved by others, dance, read, cook and be close to my family.
Maria Gabriela Biscardi
If you are reading this welcome package it is most likely that you've already met our resident life coach - Gaby. Gaby is an exuberant Venezuelan who first joined Recrear through the Magnify 2016 edition in Medellin, Colombia.She brings her lively energy and deep listening mind to our team. Not to mention she's a phenomenal life coach whose constantly questioning how the experiential can be a window into our self-exploration, as well as that of organizations. For this reason, she launched CreaPsique a Venezuela-based group of consultants on experimenting with psychology, coaching, psychodrama and experiential learning.
Nasya Razavi
Nasya is a researcher from Canada. She is currently a post-doctoral visitor with the City Institute at York University. She is now in Bolivia conducting research as part of the GenUrb partnership project on urbanization, gender relations and place-making. She holds a PhD from the Department of Geography & Planning at Queen's University, Canada. Her work on participatory practices in water governance focused on the remunicipalization of water services in Cochabamba, Bolivia. Nasya is also affiliated with the Municipal Services Project, an international research programme on policy alternatives in municipal service delivery. Otherwise, Nasya enjoys exploring new places, getting lost in the woods/mountains, crafting, and anything food-related.
Gioel Gioacchino
Gioel is the Director of Research at Recrear. She holds a PhD from the Institute of Development Studies at the University of Sussex, UK. Through a case study of Colombian youth organizations, Gioel's PhD project explored how different funding models affect organizational culture as well as the quality of social organizations' internal and external relationships. Already bored with this big buzz words? Don't worry, Gioel is much more than that. A rebel from a young age, she got on a boat and crossed the seven seas with a bunch of very diverse people from all over, an experience that kick-started her intimate relationship with basically any (human) being and the world of interculturality. If you say "kisses and hugs", she says: "I just can't enough" and hugs you till' you are full of love. As a good Italian, Gioel loves making awesome pasta dishes. She enjoys playing around, having deep conversations, meditating herself out of the world and in again, and organizing painting nights... As Recrear's Director of Community Engagement, she has loved discovering how Recrear's style of participatory action research can open up spaces for reflection for communities as well as civil society organizations. Her research interests have taken her from exploring Afro-Ecuadorian youth participation in Esmeraldas, socio-economic inclusion of young people in Bolivia and tendencies of evaluation among youth INGOs in London. She is a salsa queen and has a solid track record of spreading the infectious love of dance around.
Vanessa Jerusalimiec
She's been location independent for the past few years, and has had the opportunity to travel and live on a few different continents, discovering all the beautiful ways that people around the world are the same. Children's laughter and a grandmother's smile are universal. She's a solo traveler, avid explorer, dedicated minimalist, long-distance trail walker, mountain lover, tea drinker, daily meditator, rock climber, voracious reader, curious observer, and freelance writer. Open and honest, and sometimes a little too blunt, she's an empathetic listener who makes people feel heard and accepted. As an abstract thinker, she often see solutions that others overlook, and finds ways to overcome limitations with whatever is on hand. She belongs everywhere and nowhere, and this has changed her perspective on life, teaching her that there's not one 'right' way to live, and always surprising her with new experiences.